Surface Pro7 – Firmwareupdates August / September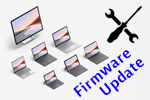 Im August und September 2021 gab es gleich 2 Firmware Updates für das Surface Pro 7  auf das wir euch hinweisen möchten.
Vermutlich wurde eines oder sogar beide Updates schon auf euren Geräten installiert. Nachschauen könnt ihr das über Windows-Update. Sollten sie noch nicht installiert sein, kann die Installation von dort aus auch gestartet werden.
In der Surface Pro 7 update history (microsoft.com) stehen wir immer eher wenig Details, im September wurde aber ein Fehler behoben, der das Surface Pro 7 zum Absturz brachte.
September-Updates
This update addresses system hang and shut down issue.
| Windows Update History | Device Manager |
| --- | --- |
| Surface – Firmware – 13.0.1763.7 | Surface ME – Firmware |
August Updates
This update improves general device performance, stability, and reliability.
Surface System Aggregator update addresses CPU throttling issue.
Improves USBC performance.
Improves Touch and Pen stability when waking from sleep.
Improves Surface Dock 2 reliability.
Improves upgrading to the latest Windows OS.
| Windows Update History | Device Manager |
| --- | --- |
| Surface – Firmware – 14.418.139.0 | Surface System Aggregator – Firmware |
| Surface – System – 9.54.139.0 | Surface Serial Hub Driver – System devices |
| Surface – System – 3.50.139.0 | Surface Radio Monitor – System devices |
| Surface – System – 6.135.139.0 | Surface Integration Service Device – System devices |
| Surface – Extension – 6.7.137.0 | Surface Dock 2 Firmware Update – Extension |
| Intel Corporation – HIDClass – 2.1.0.96 | Intel(R) Precise Touch Device – Human Interface Devices |