Neue Tools für das Surface: SDE und SDA

Microsoft wartet mit 2 neuen Tools auf. Das SDE: Surface Data Eraser und dem SDA; Surface Deployment Accelerator.  Werfen wir einen kurzen Blick auf die Tools, für was sie sind und was sie können:
SDE –  Surface Data Eraser
Eine gute Idee ist der Surface Data Eraser: Mit ihm können alle Daten auf dem Surface komplett und sicher gelöscht werden. Hierzu wird über das Tool ein bootfähiger USB-Stick erstellt. Wird von dem Stick gebootet, kann das Surface sicher gelöscht werden. Das ist besonders hilfreich, wenn man z.B.
sein Surface zum Support einschicken will
ein Surface aus der Firmen-Domäne entfernen will und die Daten darauf sicher entfernt haben will
Um sensible Daten sicher zu entfernen bevor wieder ein Standard-Windows installiert wird.
Microsoft sagt zur genutzten Löschmethode folgendes:
On Surface Pro 3, Surface Pro 2, and Surface Pro devices, the Microsoft Surface Data Eraser tool is able to provide secure wiping to US Department of Defense (DOD) and National Institute of Standards and Technology (NIST) standards, which gives you the security that your data is unrecoverable, even though forensic recovery. Microsoft Service Center's data wiping practices meet or exceed DOD (U.S. Department of Defense) 5220.22-M and Draft NIST Special Publication 800-88 Revision 1 so that no PII or corporate data remains on your Surface.
 Achutng: Die Anwendung löscht das Surface unwiederbringlich.
SDA – Surface Deployment Accelerator
Er bietet einen einfachen Bereitstellungsmechanismus für Firmen um ein Surface schnell in die Firmenumgebung einzubinden. Leider hat er Windows Server 2012R2 als Voraussetzung und unterstützt derzeit nur die Bereitstellung von Windows 8.1. Eigentlich ein cooles Tool um mal schnell eine Surface-Implementierung für Tests oder Showcases zu machen. Mit den beiden Einschränkungen bleibt aber im Moment nur den TechNet Artikel https://technet.microsoft.com/en-us/library/mt621179.aspx im Auge zu behalten um mitzubekommen, wann der SDA auch für Windows 10 oder neuere Surface Modelle zur Verfügung steht.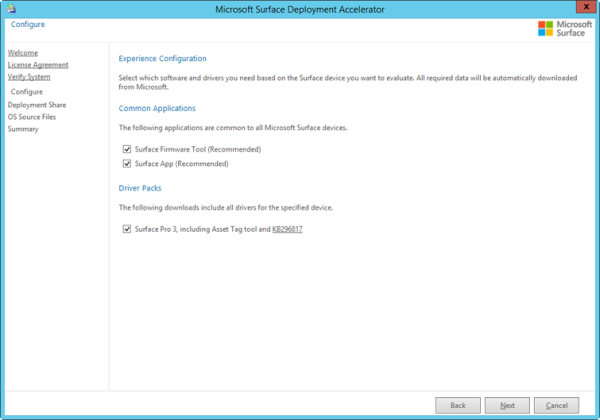 Download
Beide Tools stehen zum Download für das Surface Pro 3 unter den Link http://www.microsoft.com/en-gb/download/details.aspx?id=38826, bei dem es auch die aktuelle Firmware zum herunterladen gibt, zur Verfügung