Aktuelle Firmware für Surface Pro 3

Für das Surface Pro 3 wurde eine aktualisierte Firmware veröffentlicht. Behoben werden damit wieder einmal Probleme mit dem Akku-Management
Geht man nach dem Change Log sind nur wenige Geräte von dem Problem betroffen. Die Kapazität des vollgeladenen Akkus wird vom Treiber und dem Betriebssystem nicht korrekt gemeldet. Ich hatte in den vergangenen Tagen auch im Answer Forum entsprechende Fragen gesehen, wonach die Kapazität seltsam hoch oder niedrig war. Betroffen war auch die Anzahl der Ladezyklen bei einer vollständigen Ladung. Abfragen kann man das mit dem Befehl Powercfg /batteryreport, sieht dann z.B. so aus: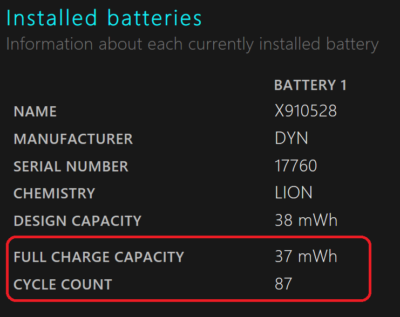 Aus dem originalen Change Log:
Surface Pro Embedded Controller Firmware (v38.11.50.0) corrects an error that may occur on a limited number of Surface Pro 3 devices where the full charge capacity of the battery is misreported to the operating system and device firmware. This update corrects the firmware component that functions as the "fuel gauge" so that the battery capacity is accurately reported.
Die Installation ist diesmal nicht so einfach wie sonst, es müssen folgende Punkte beachtet werden:
Es müssen alle externen Geräte abgezogen werden: Alle USB-Geräte und alle externen Bildschirme, das Type Cover kann dranbleiben.
Der aktuelle Ladezustand muss mindestens bei 40 % liegen (Icon rechts unten in der Taskleiste)
Das Surface muss mit dem Ladegerät am Strom angeschlossen sein, keine Stromzufuhr über Docking Station oder Surface Dock
Jetzt kann Windows Update gestartet werden um die Firmware zu installieren.
Nach erfolgreicher Installation sieht man dann im Updateverlauf das Update als
System Firmware Update – 11/7/2016
[affilinet_performance_ad size=468×60]